Dunkin' Just Launched 2 New Protein-Packed Breakfast Bowls
Dunkin' just launched two new breakfast bowls: an Egg White Bowl and Sausage Scramble Bowl.
The Egg White Bowl contains 14 grams of protein, while the Sausage Scramble Bowl has 21 grams. The Egg White Bowl is also vegetarian.
The bowls are available at participating Dunkin' restaurants nationwide for a limited time.
Dunkin' may be known for their donuts (even if their name now indicates otherwise), but the much-loved chain is adding some more nutritious items to their morning menu.
Today, Dunkin' launched their brand new breakfast bowls nationwide, which include the Egg White Bowl and Sausage Scramble Bowl.
The Egg White Bowl is made with egg whites, spinach, roasted potatoes, cheddar cheese, and caramelized onions—which means it's totally vegetarian-friendly (as long as you're a vegetarian who eats eggs). While the Sausage Scramble Bowl features scrambled eggs, sausage, melted cheddar jack cheese, peppers, and onions.
Both bowls offer a healthy amount of protein. Here's how they stack up nutritionally:
Dunkin' Egg White Bowl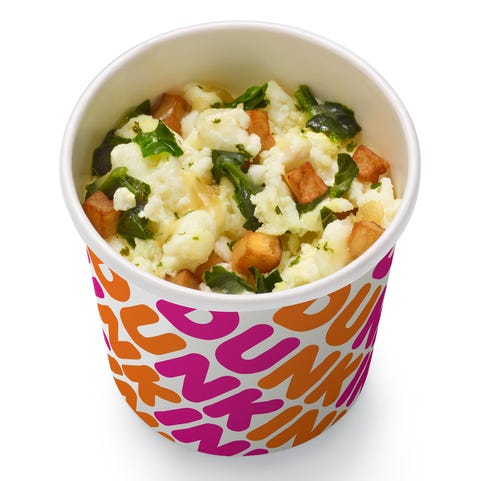 Clint Blowers
Calories: 250
Protein: 14 grams
Carbohydrates: 19 grams
Dunkin' Sausage Scramble Bowl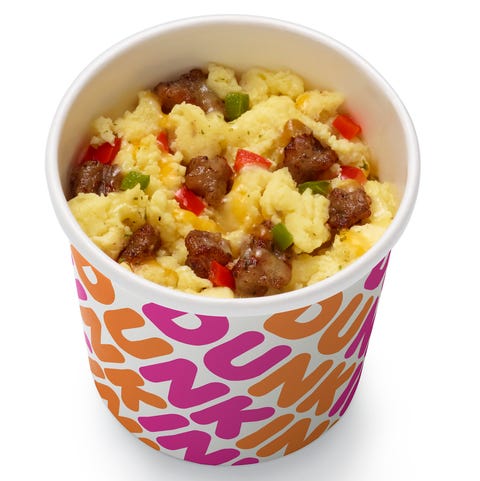 Clint Blowers
Calories: 450
Protein: 21 grams
Carbohydrates: 11 grams
These new breakfast offerings come after the success of Dunkin's Power Breakfast Sandwich, which launched earlier this year. "We found that our guests craved innovative, accessible, better-for-you menu choices," Tony Weisman, Dunkin' U.S. Chief Marketing Officer said in a press release.
"Our new Egg White Bowl is all that and much more with great taste, vegetables, lean protein and no bread. For guests looking for a heartier Dunkin' Bowl choice, our Sausage Scramble Bowl is a great new option full of flavor and protein," he added.
You can grab the new Dunkin' Bowls at participating Dunkin' locations nationwide, for a limited time only.
Source: Read Full Article