Inside the Start-Ups Getting Rich on Millennial Insecurities
Above a slice of midtown Manhattan full of proudly stubborn vestiges of a scruffier, older New York—wholesale perfumeries, a hodgepodge of shops selling bedazzled ball caps—sits the headquarters of a start-up company called Roman and its parent company, Ro. A swarm of people sprawl and huddle throughout the dinged-up open floor plan. Whiteboards are filled to the edges with urgent scribblings: "Relieve stress." "Let's take care." A bubbly publicist finds me and—while unabashedly and repeatedly using the expression "start-up life!"—redirects me to a teeny corner conference room. The vibe, clearly, is less magazine-photo-shoot-ready curation and more Dude, we're growing so fast. A flex of a different sort, but a flex nonetheless.
Roman is one of a cluster of new health-care start-ups that want to help men fix themselves. There's Keeps, which wants to stop your hair loss, and Candid, which wants to straighten your teeth. And then there's Hims. Roman's primary nemesis, it's the flashiest of the bunch; it wants to fix your hair and your wrinkles and your erection and other stuff, too. And it wants to do this with the breezy, direct-to- consumer model perfected by Warby Parker and Casper. Hims and Roman both boast scores of prominent medical advisors and, with less fanfare, employ bunches of gig-economy doctors paid to do online consultations. And they want, with ease and comfort, to sell you drugs online.
Roman started with the penis. It launched on Halloween 2017 with a staff of five and one product: Sildenafil, the generic name of Viagra. Now Ro has a staff of 100-plus and product lines covering hair loss, premature ejaculation, genital herpes, and enlarged prostates. It also has a vertical, Zero, focused on smoking cessation.
"Erectile dysfunction was always a way to build a bond with members," Zachariah Reitano, Roman's 27-year-old cofounder, tells me. "We never wanted to build an ED company or a men's-health company," continues 36-year-old cofounder Saman Rahmanian. "We wanted to build a health-care technology company." There's no reason that, one day, Roman couldn't provide you, from the comfort of your own sickbed, with the cure for everything.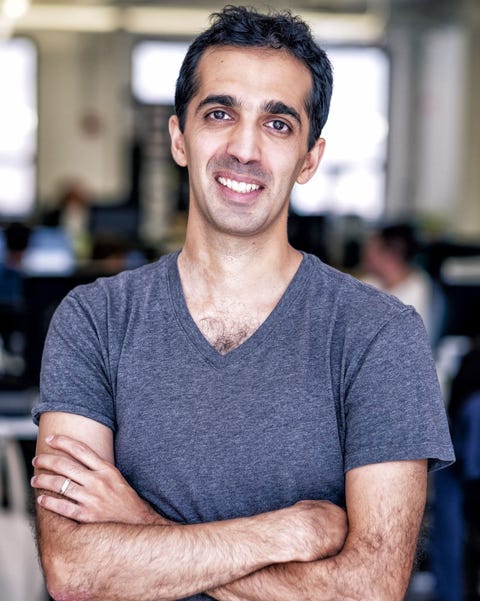 Saman Rahmanian, one of the cofounders of Roman

Brian Eden
Along with Jessica Prager, Roman's VP of product, we're stuffed around a small, uneven table. Reitano, whom everyone calls Z, is in a tech-logo hoodie. He sits, in proper careless-wunderkind fashion, hugging one knee that's hiked up onto the chair; he does most of the talking. And in accordance with what I come to learn is a theme of this burgeoning men's-wellness industry, Roman's origin story came out of his own painful, personal experience.
In a 2017 Medium post, complete with Anchorman GIFs, Reitano charted the saga. "I had been like most young men: A light breeze would send me calculating square roots to fend off the consequences of my adolescent mind." Then ED hit at 17. It turned out to be a symptom of a heart condition, one that would recur later in his life, while Reitano was the "Entrepreneur in Residence" at the NYC "venture studio" Prehype, where he met Rahmanian."We'd already decided we were going to be cofounders," Rahmanian recalls. "We didn't know on what yet. Then one day Z shows up with a heart monitor and we start talking about men's health."
Reitano says how proud he is to build an empire off his own medical condition and, in the process, attempt to break its stigma. He tells me about an armed-forces veteran suffering from ED who was so happy with the treatment he got through Roman that he sent Reitano a personal letter and a medal, which Reitano keeps on his desk. Also presumably helpful in sailing past any stigma: This erstwhile "boner-pill company" is making money. "Within a week, we reached what we thought would take a year in our growth projections," says Rahmanian. To date, Ro has pulled in $91.1 million in funding.
This sudden appearance of a men's-wellness start-up industry isn't a fluke. It's a result both of shifting telehealth laws and of an increasing number of brand-name medications going off-patent. That means the pills are cheaper and (depending on which state you live in) easier to get. Then there's the cultural shift: Young men seem more willing than ever to pay money to take care of themselves. They use terms like wellness and self-care in their vocabulary—regularly. This should be a good thing, because men are less likely to see a doctor than women are, and more likely to minimize their symptoms, according to a Rutgers study.
None of these companies have actually discovered anything new. They're repackaging preexisting medicine. "Prior to launch, the competition was actually just the status quo," Reitano says with unblinking confidence. "Making a doctor's appointment in person. Now we've seen this massive increase in telehealth. The best company that will take care of the patients in the best way, get them their medications the fastest, have doctors be the most affordable and convenient and responsible—they will win." Whether it's also a win for patients is not so clear.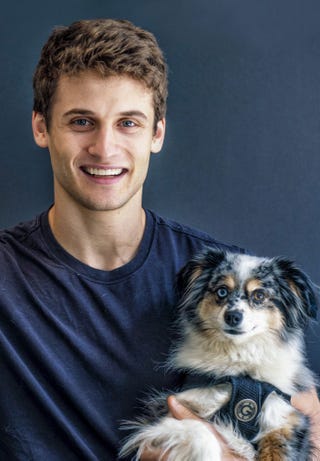 Zachariah Reitano, one of the cofounders of Roman

Brian Eden
Tiffany Zhong, a Gen Z whisperer and the founder of brand-consulting firm Zebra Intelligence, says some of this may be attributable to the ever-looming question of our modern age: "How can I make my life look as awesome as the next person's on the 'Gram?" Yet with wisdom beyond her 21 years, she adds, "But looking better, feeling better—that's a core human desire."
As an "older millennial" and therefore a member of the demographic being courted here, I should note that men my age don't need that much of an excuse to try hair-loss or ED cures, especially if we can do it without the friction of human interaction. But there is something else going on here—a chumming of millennial angst.
Hims's marketing is, ostensibly, all cheeky fun, an "aspirational lifestyle brand." But it highlights the apparent commonality of the problems: 66 percent of men experience hair loss by 35; up to 39 percent experience premature ejaculation; and 26 percent of men under 40 will struggle with ED. It's all in the service of trying to make you feel like you are a lovable idiot who never knew there was something very obvious missing from your medicine cabinet. Roman is shooting for a rep as the field's reliable older brother. It just released an app called Morning Glory: It encourages you to track your morning erections and celebrate them with GIFs! And if you go three days without having one, you can talk to a Ro doctor for free. Looked at another way: It encourages someone who never thought he wanted or needed Sildenafil to go buy some Sildenafil. This riles some health experts.
"There's the millennial FOMO factor," says Drew Ramsey, M.D., a clinical psychiatrist in New York City. "Social-media marketing gets some men twisted up. What if sex is better and longer with a mix of pills? They're stoking those fears and pitching Viagra and Zoloft as the solution. That's not medicine."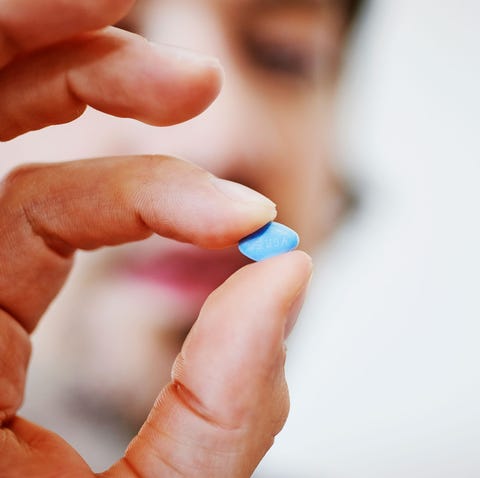 Getty ImagesBSIP
it's overcast the day I visit Hims HQ, in San Francisco's lovely Presidio Park. Cinematically so. Complete with the modern, glass-heavy look of the building, the afternoon gives off the unavoidable air of the final scene of a sci-fi thriller in which the genius scientist/humanitarian turns out to have had nefarious ends all along.
Hims, like Roman, is growing fast; soon it'll have to leave its current space within the offices of Atomic, the Peter Thiel–backed "start-up studio" that birthed it. Hims has amassed $97 million in funding and racked up a million dollars in sales in its first week. And, it claims, every week since has been bigger. All the clichéd benchmarks of a start-up are here: scooters and longboards at the front door; glass vases of sour straws and gummy bears; the sound of far-off Ping-Pong balls.
I sit in a sunny room full of mini succulents with Adrian Rawlinson, M.D., VP of medical affairs, and Hilary Coles, brand lead. (Founder and CEO Andrew Dudum is in France.) But for the record, here's Hims's painful, personal origin story: Some years back, Dudum's little sister told him he "looked wrinkly and tired," then made him buy $200 worth of products.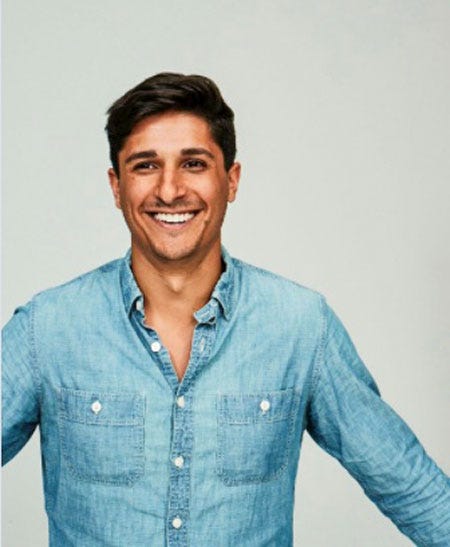 Andrew Dudum, the founder of Hims.

Hims
Looking back at Hims's splashy debut, Coles says, "We started with a lot of humor, and that was critical to break the ice. A lot of the eggplant emoji. But we are trying to be more universal versus the 'masculinnial beige' and all the things we were called. Certainly the needs you have as an undergrad are different from if you're trying to start a family. We want to be alongside people our age as they go through all these stages." Continues Dr. Rawlinson: "Do you want to learn about cancer prevention? About cardiovascular-disease prevention? We want to provide the whole gamut of care. But we're not going to be churning out stuff to make a fast buck."
During my chat with Reitano back at Roman's HQ in New York, he told me, "You'll see other companies that offer biotin gummies." That is, in fact, a product Hims sells; it claims they're "for thicker hair, stronger nails, better skin." According to Reitano, "The FDA says that certain biotin gummies can actually be harmful. They can lead to falsely high or low test [results] and can actually prevent a physician from [diagnosing] a heart attack."
I try a joke, possibly in bad taste.
"So Hims is going to kill people?"
Roman's bubbly publicist laughs,
but Reitano's earnestness is utterly unshaken. "I do think that companies have a responsibility to only offer products that are clinically proven to work."
Companies like Roman and Hims have great potential but tricky paths. The growth element is clear: Sell more pills for more problems. It's undeniable that there's something appealing about having all our ills handled through discreet online consultations and our medications shipped in elegant packaging. But maybe there's a reason health care isn't as easy as getting a package delivered overnight. We are at a stage of the tech-boom era where we realize we can't let these companies grow without thinking about what they will grow into.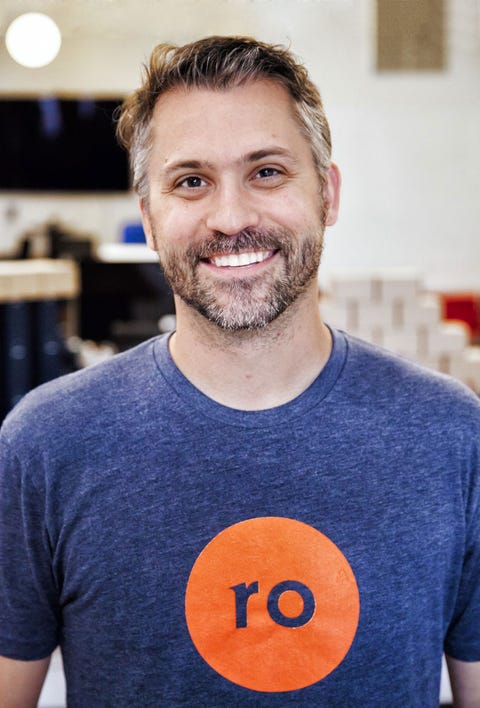 Rob Schutz, one of the cofounders of Roman.

Roman
Doctors are concerned that the popularity of telehealth evaluations may lead to a reduction in actual office visits. That carries potentially fatal consequences. For example: "You may find that the ED is merely a symptom of a more serious underlying pathology," says Larry Lipshultz, M.D., a professor of urology at Baylor.
Sarah Sossong is the executive who launched the telehealth service at Boston's
Mass General Hospital. She now works at the health-care tech investment firm Flare Capital. Sossong knows what her former colleagues would say of Roman and Hims: "Mass General is all about your own physicians who know you. They would [dismiss] these types of companies—say it's not good clinical care." But she wants to hear the start-ups out—cautiously. "They're looking at other ways of delivering care," she says. "That needs to be emulated. But at MGH, those are really good doctors—if they do anything wrong, it comes from a place of trying to do the right thing. These start-ups are businesses. The medical practice, while core to their business, is not their priority necessarily. They're trying to make a buck."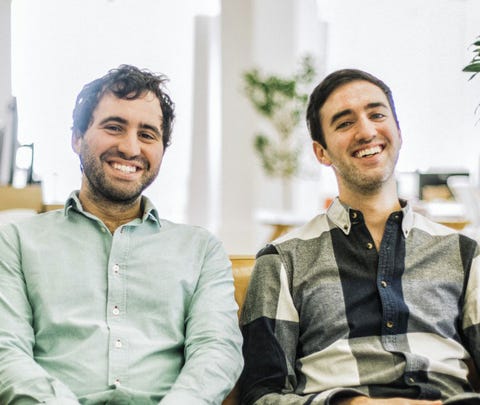 The cofounders of Keeps, Demetri Karagas and Steve Gutentag.

Keeps
We didn't foresee that Amazon would end up as a monopoly trampling over labor rights. We didn't predict Facebook would be connected to election meddling. But we can see where a cutesy, ambitious telehealth start-up might go tragically wrong. The model is what the model is. This time, we can all envision at least the broad outlines of the dystopia.
Once dudum gets back from France, we catch up over the phone. It's been over a
year since the Hims CEO became a start-up superstar, and his salesmanship is on point. He won't say what Hims will offer next, except that it will be prolific. "You'll see us
do a lot of [conditions] that a lot of people—30, 40 percent of the population—are
suffering from. These are important categories for us, as a health-care company, to
solve." Likely, it's statins for heart health and other drugs for obesity and diabetes.
Just as a thought experiment, I bring up parabiosis, plasma infusions done in the theoretical hope of achieving energy rejuvenation and life extension. Effectively,
it's rich people buying the blood of the young. Atomic backer Thiel is a Silicon Valley titan associated with it. Considering Thiel's connection to the company, I ask Dudum: Would Hims ever consider selling a "life-extension therapy" like parabiosis?
"I couldn't give you the answer," he says. "We evaluate all of the treatments based on the highest-quality, longest-duration studies. We try really hard to make sure what we're selling is the best in class, best respected, by all physicians. If that mode of becoming more youthful actually proves to be exceptionally efficient and there's ways of bringing it to market in a safe manner . . . those things are not off-limits."
Source: Read Full Article