You Need This Ingredient If You Want To Make Keto-Friendly Bread
On Monday, Al Roker revealed that he's lost 40 pounds on the keto diet since starting it in September 2018.
The TODAY show cohost and keto diet poster child (he's always down to defend the diet) shared one of his fave keto recipes during the same segment: sloppy joe sandwiches on keto-friendly bread.
While explaining the recipe for the bread on-air (it was adapted from a recipe by Maria Emmerich, one of Halle Berry's favorite cookbook authors), he came across an ingredient he really didn't now anything about: psyllium husk powder. "Don't ask me what it is…you get it at the store," Al said.
That got me thinking: What is psyllium husk powder—and why do you see it in so many keto recipes?
Okay so what is psyllium husk powder?
So psyllium husk powder comes from the husk of the Plantago ovato plant's seeds. Plantago ovato (a.k.a. the blond plantain) typically grows in southeast and western Asia, says Franziska Spritzler, RD, author of The Low Carb Dietitian's Guide.
That husk is rich in soluble fiber, says Spritzler. In fact, once it's ground up into a powder, psyllium husk powder can contain four grams of fiber in just half a tablespoon. Because of that, psyllium husk powder is actually the active ingredient in stool softeners like Metamucil, which relies on soluble fiber to help, uh, move things along. Psyllium husk powder can also help lower blood sugar and blood cholesterol levels, says Spritzler.
Why is it such a big deal in the keto community?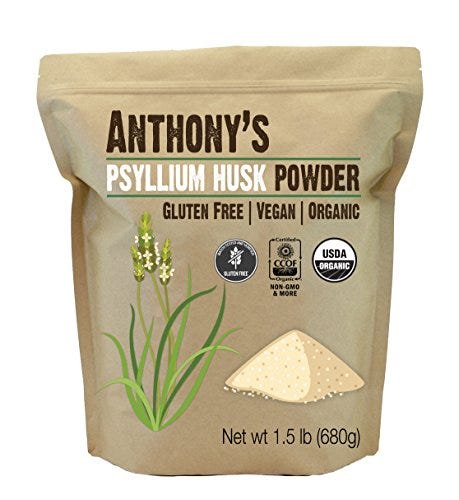 If you scour the internet for keto recipes, you've likely seen psyllium husk powder as an ingredient—it's a must-have ingredient for keto-approved rolls, pizza, and baked goods (basically anything bread-like that keto guidelines generally restrict).
That's because psyllium husk powder has virtually zero digestible carbs (a.k.a. carbs that won't go towards your daily carb intake), says Spritzler. But also, the ingredient has the ability to mimic bread's texture and makes dough easier to shape and roll, she adds. Of course, no gluten alternative can authentically match the real deal, but for those who miss the joys of pairing a warm baguette with cheese, this might be the next best thing.
Are there any downsides to psyllium husk powder?
According to Spritzler, psyllium husk powder is generally safe, though she recommends gradually introducing small amounts of the ingredient to your diet to make sure your body's comfortable with it.
And, like with most fiber-packed products, she says to make sure you're drinking a lot of water—like, at least 16 ounces—with the powder to prevent constipation or even intestinal blockages.
So, overall, it looks like psyllium husk powder is a totally fine (dare I say, even helpful) addition to the keto diet—as long as you don't go overboard at first and drink it with lots of water.
Source: Read Full Article